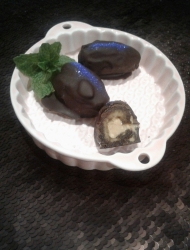 So I had a busy day today. Glorious in the sunshine, happy as with the family, very grateful for my husband who helped me divide and conquer the kids and venues we had to be at. Ballet, a client appointment and a birthday party to attend.

I really enjoyed my client appointment. We multitasked as all girls do, but with a sense of calm and purpose rather than pressure and stress. We roasted vegetables for lunch and while they cooked we juiced and made a smoothie. There was time to make a lovely slaw and we were able to sit down and discuss the finer points of our session while we ate.

Kate now has a selection of meals to last her a few days and some can be frozen for when she is having a frenetic moment. These meals are much kinder on her body than takeaways. By having loads of vegetables she is crowding out foods that may not be the best choices and she is nourishing her body with beautiful phytonutrients, fibre and hydration.
I think Kate pushed her boundaries trying a raw snack that I provided, while not a date fan Kate almost gulped before trying my caramel snack bite...but apparently it convinced a sceptic, and I just had a hangry teen down one and return for seconds.

Caramel snack bites
3 medjool dates
3 tsp nut butter
50 grams chocolate
Remove the pip from each date by slicing a line from top to bottom, keeping as much intact as possible.
Fill with 1 tsp of nut butter each, gently squish the date closed
Dip in chocolate
Place in fridge to set
I am very proud of Kate, she is juggling so much, managing a busy family, a very heavy work load and she has just made a commitment to her health and her future with these coaching sessions. Kate is so worthy of that commitment!!

Remember for a chocolate treat choose dark chocolate for its lower sugar content.